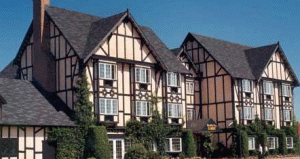 Quality Inn-Waddling Dog
Hotel
Address:
2476 Mount Newton Cross Road
Saanichton, British Columbia
V8M 2B8
Phone:
1-250-652-1146
Toll Free:
1-800-567-8466
Fax:
1-250-652-4946
Email:

Website:


Distances
Ferry - Vancouver: 12.1km
Airport: 6.3km
Downtown Victoria: 20.4km
Downtown Saanichton: 1.6km
Downtown Sidney: 7km

Make Yourself at home in our cozy, 30-room English Tudor-style hotel, conveniently located off Highway 17 in the countryside north of downtown Victoria. You'll appreciate the antique style furnishings and decor in each room, the old English atmosphere of our lobby and fireplace lounge, and the nice extras like free deluxe continental breakfast. We look forward to welcoming you to the Quality Inn Waddling Dog Victoria Hotel.
Please visit Quality Inn-Waddling Dog Website.
---
To investigate other Saanichton accommodations, use these links:
Saanichton Hotels, Motels, Resorts, Cabins and Cottages
Saanichton Bed and Breakfasts
Saanichton Campgrounds and RV Parks
Contributor Experiences
Contributor Experiences are governed by our Contributor Policy.
There are no experiences for Quality Inn-Waddling Dog
Antique-style furnishings
Complimentary in-room coffee & tea
Free local calls
Complimentary newspaper
Free Parking
Pets welcome
Elevator access
Individual in-room heat/air conditioning
Sherlock's Restaurant
Pub-style Bar & Grill
Heated outdoor patio dining
Beer, Wine & Spirits Shoppe on premises
Banquet and Meeting Space