Related Travel Information
The Blue Fox Cafe in Victoria
At while ago I complied a list of Victoria breakfast places and I've been meaning to actually try them all. Eventually.
We lucked out on a Wednesday morning and squeaked into the Blue Fox Café on Fort Street in downtown Victoria. It's a smallish place and rather popular. A couple of years ago, when we were compiling the list, the line-up was too big and we did not try.
It was worth the wait, even though it was a three-year wait. The staff is attentive and they managed to squeeze us into a table. We had arrived around 10:30 AM and, a few minutes later, there was a big line up. The choices at our table were Le Premiere, Apples Charlotte, Ambrosia Apple Cakes and Eggs Blackstone. The young people were very happy with, but unable to finish their French Toast and griddle cakes. The eggs were great. I think it's the benefit of ingredients that were just a little bit better than average that makes the difference.
I enjoyed the artwork on the walls, which was all for sale, except I suspect the signature blue fox painting. The large windows by the street made for a well lit and friendly atmosphere and it was definitely funky.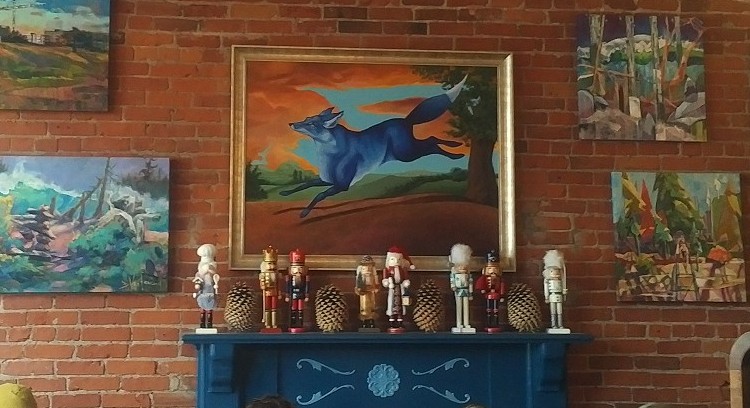 I spoke with one of the servers and asked about busy times. They open at 7:30 AM and generally speaking if you are there before 8:30 there's not much of a wait.
That's good to know because we are planning on going again some day!