Related Travel Information
Mount Maxwell Provincial Park
In my opinion, calling this peak a "mount" is an insult to the peak.
One of they key unexpected surprises is how twisty, up-and-down and basically mountainous Salt Spring Island is. By the time we were settled in our B&B, we had figured this out through driving and were listening closely when our hostess suggested that the Mount Maxwell view was stunning. However, she cautioned, the road was challenging for regular vehicles, but figured a regular sedan would do the trick.
Taking Cranberry Rd from Ganges, you simply follow the signs. You will be going up and up. When the road changes to gravel, start watching for potholes. We found the trip very steep and very bumpy. It was worth it for our car's under carriage to take it slowly. When you encounter another vehicle, you have to figure out who has the best place to pull over and let someone pass.
It takes about two minutes after pulling into the parking lot to see the view. Longer in my case if your bladder feels a bit rattled after the ride. Thank goodness for the outhouse.
The view is amazing; I think I swore.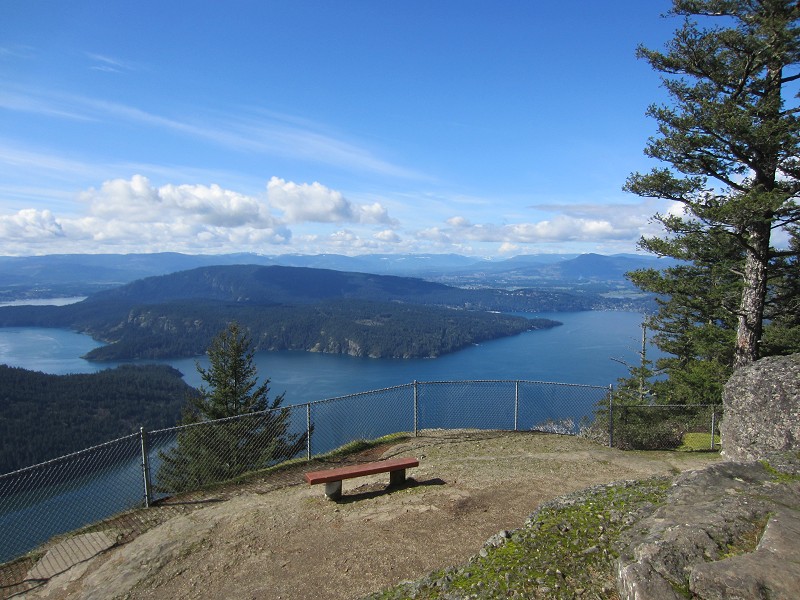 We enjoyed figuring out what various islands we were looking at and decided to head back down.
At one point I (and the car) were stuck in the mud, but quickly corrected the problem.
Just as I was thinking "man, they don't maintain this road," a grader laying down new gravel drove by, coming up the mountain.
The irony was not lost on me.
The official site is here: www.env.gov.bc.ca/bcparks/explore/parkpgs/mt_maxwell/