Related Travel Information
An Accidental Trip to Deep Bay
We were visiting Qualicum Beach (staying at Buena Vista by-the-Sea) and we decided to do something educational for the kids, specifically the Deep Bay Marine Field Station. This is further down the 19A highway/Oceanside, about 25 km from our motel. It is past Bowser (can't help but thing of a barking dog) and down a series of streets and a gravel road.
Sadly, we picked a day that the place was closed for a private function. Important tip: check their website in advance. There was a sign at the highway saying it was closed, but I was determine to double check. The signs were clear leading to a gravel road, which was also covered by crushed oyster shells and we discovered the Station and it was indeed closed for a wedding. Speaking of shells, one of our purposes was to ask what critter makes a hole in a shell that looks like this. (We found a few shells on the beach in Qualicum Beach with this hole):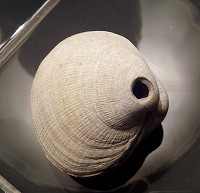 So, Deep Bay Marine Field Station was a bust, but we decided to check out the view from the dock at Deep Bay, which we had passed on the way in. This was a treat for a couple of reasons. While standing on the large dock, I could not shake the sense that despite being managed by the federal Fisheries and Oceans department, it felt like we were at the end of the universe. (The last time I had this feeling was in Egmont on the Sunshine Coast.)
Furthermore the vista was tremendous. And, there was wildlife. Specifically we found three river otters (although until we consulted a book we thought they were big enough to be sea otters). They were messing around on the dock, enjoying one of the boats moored there and were just as playful as you expect otters to be. When we visited the nearby cafe/general store, we purchased "Pacific Reef & Shore – a Photo Guide to Northwest Marine Life." When we asked about the otters, the lady running the shop was unimpressed and considered the otters pretty much a nuisance, similar in the way other Canadians refer to chipmunks or squirrels that get into your stuff.
We headed back into town having a good case of Making the Best of It, which when travelling and not being sufficiently anal retentive to check places' websites in advance, you better be careful to do!