Related Travel Information
Agricultural Fair Coombs
Coombs BC is about 10 km west of Parksville. Every summer for 106 years, there has been the Coombs Fair, which is a flat out good old-fashioned agricultural fair.
We for once were in the area when it was being held and decided to join in the fun.
There is a dominance of 4-H clubs, which is a group of folks running youth programs in various disciplines. In Coombs' case, it was animals, arts and small engines. It was interesting seeing young people wrangle rather large cattle with a calm that I wouldn't have with an animal many times my mass.
I had to look it up; the H's in 4-H are head, heart, hands, and health, which, honestly doesn't make sense as the first three are things you can see whereas the fourth is something you innately possess. Or not.
Anyway, I wanted to see the horses, which all mesmerized me so much I forgot to take pictures. At the Fair's arena we found a seat and waited for the agility runs of various sized dogs. It was not a super serious one, but it showed the effort in training the dogs and the humans and the bonds it forms.
When the horses arrived, I could immediately tell that there was one that was not wanting to cooperate. As we watched the judges give points for the riders and horses, the one I had my eye on did not do well. I thought the rider was very skilled at handling that one.
So, if you are in Coombs when the Fair is on, it's worth checking out, particularly if you're a city slicker like me who needs to be reminded what kind of people produce the food we eat every day!
And I finally learned what zucchini race was.
For more information. www.visitparksvillequalicumbeach.com/events-2019-8-10-coombs-fair-2019/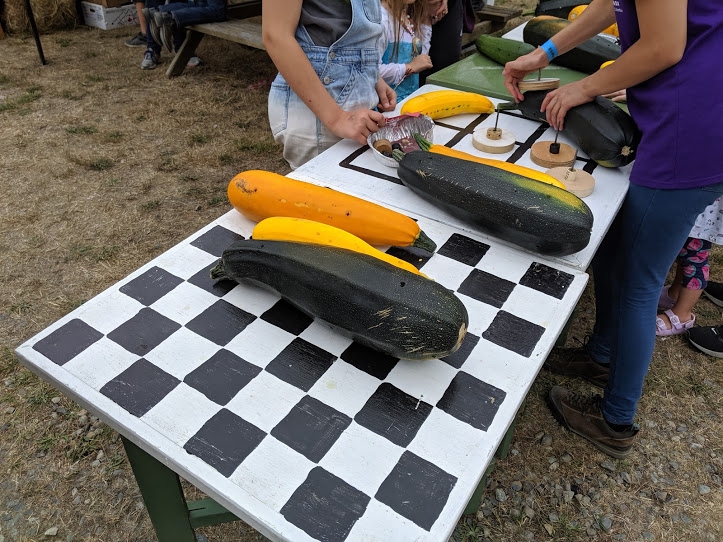 This is the station where you put wheels on your zucchini.