Related Travel Information
Rocking Horse Pub Nanoose Bay
There are some special places that you only find when relatives invite you. Nanoose Bay is on Vancouver Island as you head from Nanaimo toward Parksville. To get there, you exit Highway 19 at NW Bay Road, which you follow until you get to Rocking Horse Place.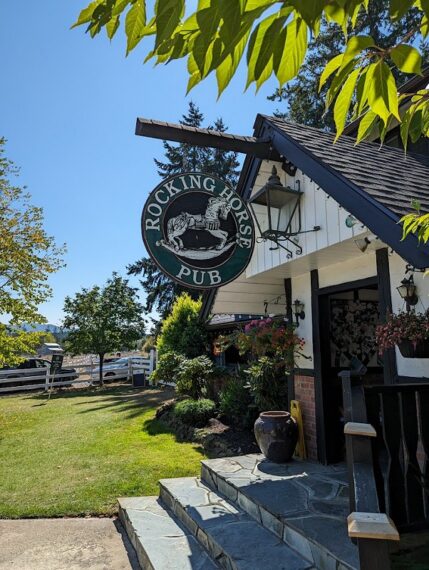 The horses are real.
Vancouver` Island has a thing about placing very English Pubs in off beat locations. The Black Goose Inn in Parksville (blackgooseinn.com) is another.
At the Rocking Horse Pub, we enjoyed the outdoor space, which was covered on a hot day and was peaceful as the road was far away.
This might be a good point that if you're the type to overindulge, you'll need to plan ahead for a designated driver or have a lot of money for a cab as it's 30 km to Nanaimo and 10 km to Parksville.
As to the menu, the pub is known for its Nachos. Nachos being pub grub has always amused me. Does this qualify as Fusion? This seems fair since curry shows up in the lamb dishes. I had the Famous Deep Dish Fish Pie and was not disappointed.
For more information see rockinghorsepub.ca