Related Travel Information
Bike Ride Stanley Park to Kits Beach
A gorgeous late Friday afternoon in August in Vancouver provided me with enough time to take a 23 km ride around Stanley Park and False Creek in order to land me at Kits Beach. The route I take has very little actual road riding. I find dodging other bikes and pedestrians challenge enough without fun cars!
I noted the time as 4:07 PM at West Georgia and Bute Streets, downtown, where I unlocked my bike and headed north on Bute.
Bute Street ends just past Hastings Street. The traffic trying to get to the Lion's Gate Bridge was insane, even for a Friday in summer. The main access to the bridge cuts through the middle of Stanley Park. My route started with the view below, from which you hang a left and head to the main bike/walking seawall path, where you turn left again.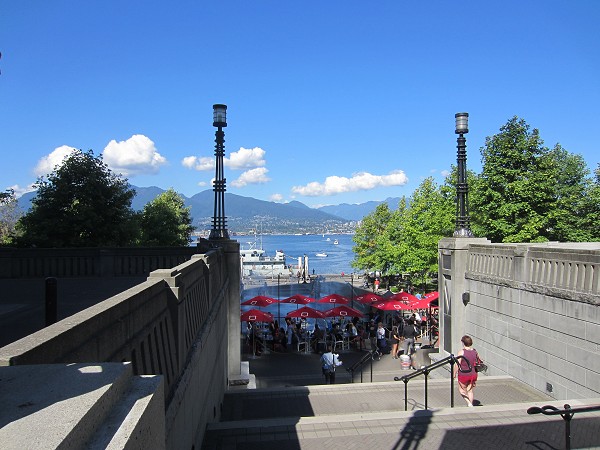 The view from the foot of Bute Street.
As you travel along the path, you will come to the Coal Harbour Community Centre. The views from there are pretty amazing.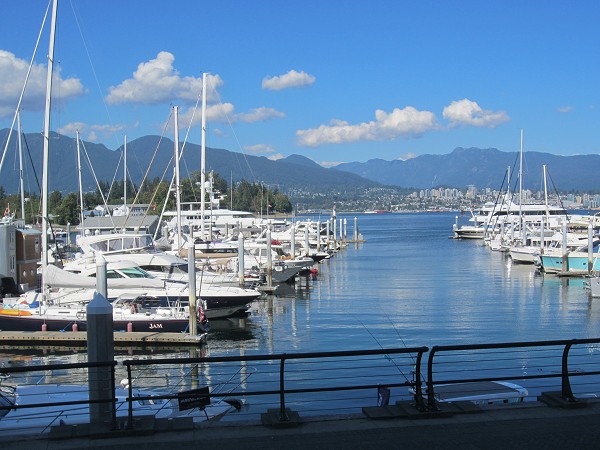 View of Coal Harbour
Follow the bike path past the Westin Bayshore and follow the winding paths.
At this point a word about Random Walkers is warranted — not creatures from The Walking Dead but rather pedestrians who due to inattention or wilful idiocy are not noticing the cyclists. The bell on your bike should be used or, failing that, I find yelling a hearty "heads up!" will do the trick. However, I have found that calling out "on your left" may have the unintended consequence of the pedestrians and cyclists you are trying to pass to actually move to the left.
Tourist cyclists are easy to spot — they have a wobbly cluelessness about them — and you should not be in a rush doing this ride. One time I saw a couple on a bicycle-built-for-two lightly crash into the craggy rock faces that come later in the ride.
You know you are in Stanley Park proper when the Random Walkers and Clueless Cyclists increase in number and you see these two views.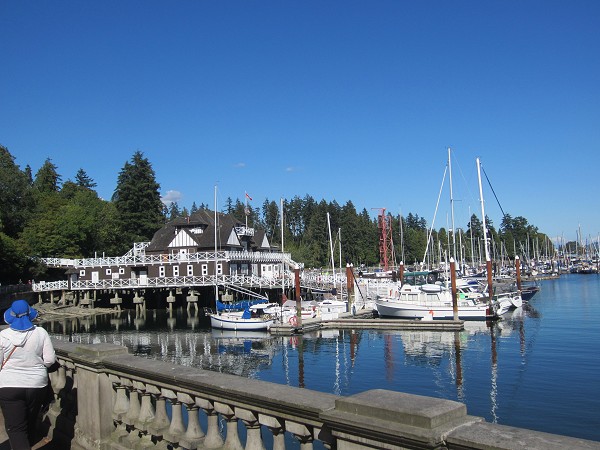 Vancouver Rowing Club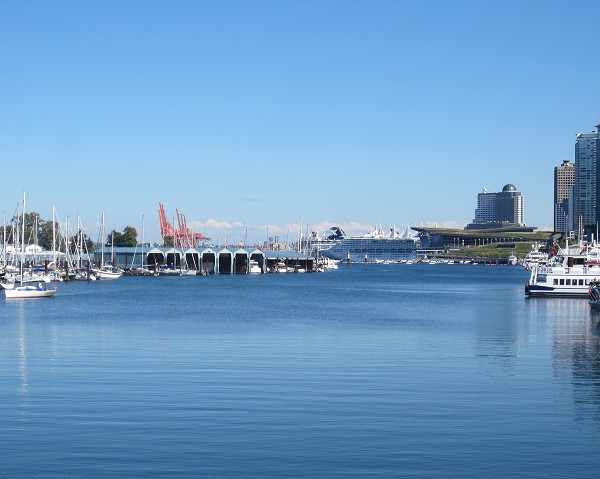 Notice the cruise ship docked at Canada Place.
Your next required stop along the bike path is Brockton Point Lighthouse. Again, watch for Random Walkers and selfie stick wavers. From here you can take in your first glimpse of the Lion's Gate Bridge and admire the full span.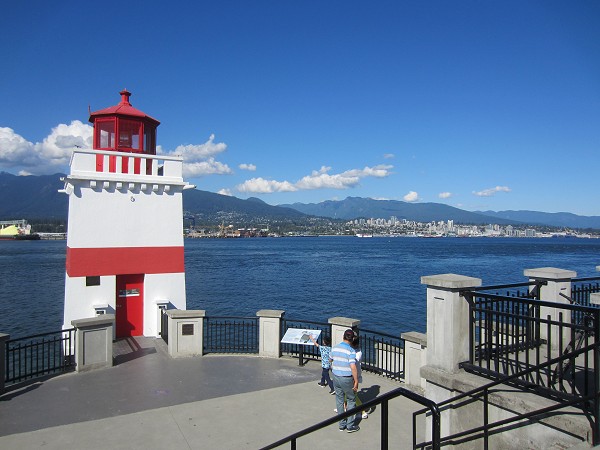 Brockton Point Lighthouse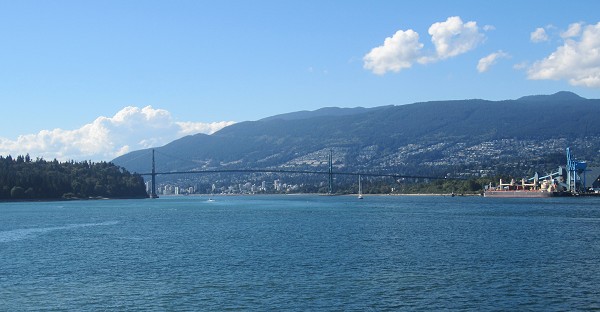 Lion's Gate Bridge
The next spot along the bike path worth taking photos is well past the mini splash park, where you are forced to dismount. (This is a good idea especially with small children around.) However, the next dismount spot is right under the Lions Gate itself with its huge footings. And fishermen. It's hard not to be blown away by the sheer size of the bridge and the speed of the water.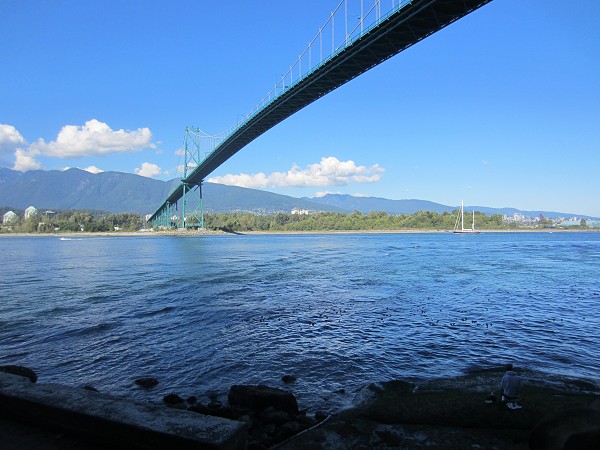 Under the Lion's Gate Bridge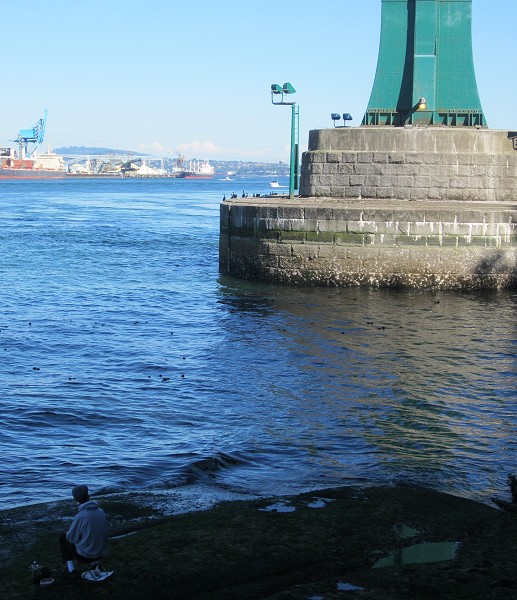 Funny place to fish, eh?
Once you sort yourself out from the tourists taking pictures, the bike path becomes more narrow and rocky on your left side. Do not pressure other cyclists to go faster, there are small places to pass if you are in a rush. Don't be in such a rush that you miss Siwash Rock — although if you miss that, I recommend medical assistance. Once you cycle past this fascinating rock, there's a spot on the left to pull in and out of the way. This is a great place to stop and take pictures. There are stories based on First Nations legends and a more recent story about a nitwit using a slackline to walk to the top of Siwash Rock.

To call it a rock seems like an understatement
The ride from Siwash Rock until your next forced dismount is windy, rocky and has a wonderful ocean vista to the west. You will find yourself at Third Beach, where you are no longer in the craggy rock zone, but the beach zone. The Teahouse Restaurant is up the stairs, above Third Beach.

Third Beach
Second Beach is not far away and it has a pool, which might seem odd given all the ocean nearby, but not all of us like swimming in the ocean. I did a time check when I took the picture below and it was 5:07 PM, exactly one hour from when I was unlocking my bike at Bute and West Georgia Street.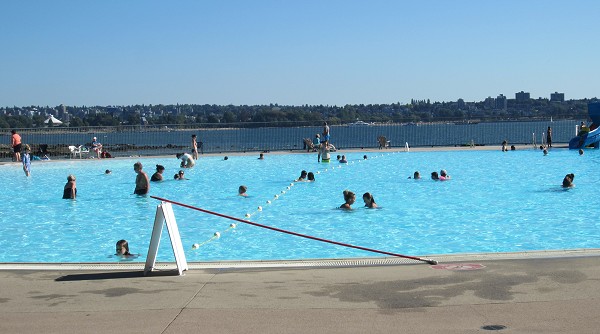 The pool at Second Beach
To get to First Beach, you are in effect leaving Stanley Park. You curve to the right once past the large playground with a fire truck. If you curve the other way, you will head to go around Stanley Park again. Suddenly things are urban and you are riding on what feels like the sidewalk for Beach Avenue. Random Walkers are frequent in this stretch.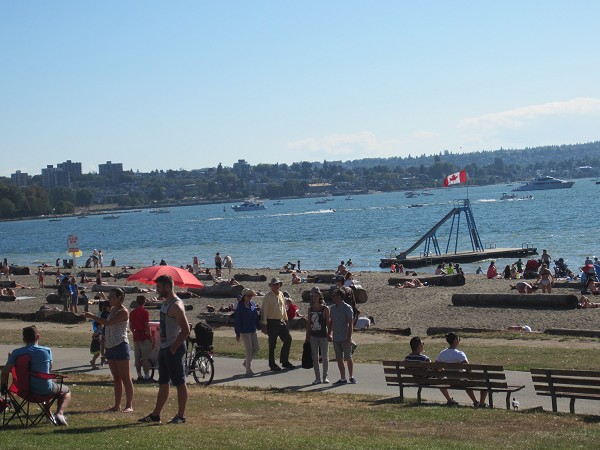 First Beach, which is famous for being closest to the annual fireworks competition.
Once past First Beach, it is a nice easy stretch down along more beach. You will see the Burrard Bridge, which is important as this will be another bridge to go under. As soon as you pass under it, you curve right and I suggest stop and enjoy the view of Granville Island and its namesake bridge, Granville Bridge. I did a time check and it was 5:23 PM.

The view of Granville Island and Granville Bridge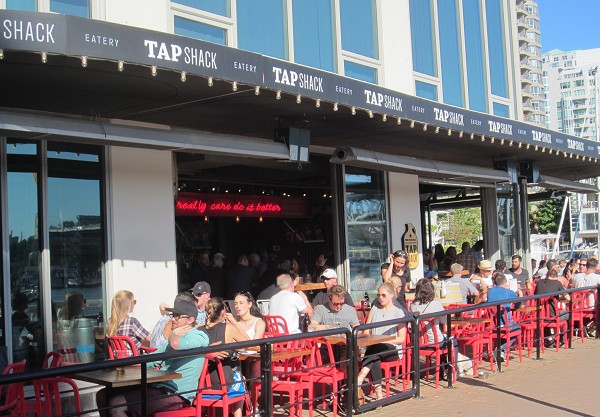 Or stop for a beer at Tap Shack
This part of the ride requires negotiating two turning circles where cars can intersect your path. Specifically these are Hornby and Howe Streets. As you wind past these, you will enter the Yaletown neighbourhood. where the paths are more clearly marked because they are newer. The water on your right is False Creek. The Yaletown Dock is worth a stop. Cambie Bridge, another bridge to go under, is visible.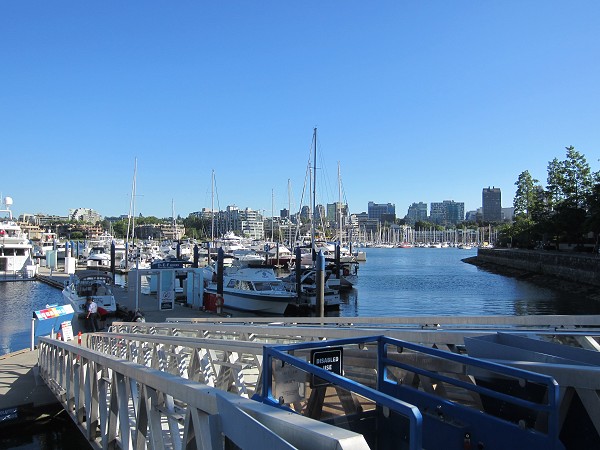 Yaletown Dock – you can catch a ferry to Granville Island from here
Science World is another unmistakable landmark, which comes into view, once you ride around the casino. Basically once you curve around Science World you are heading toward Granville Island.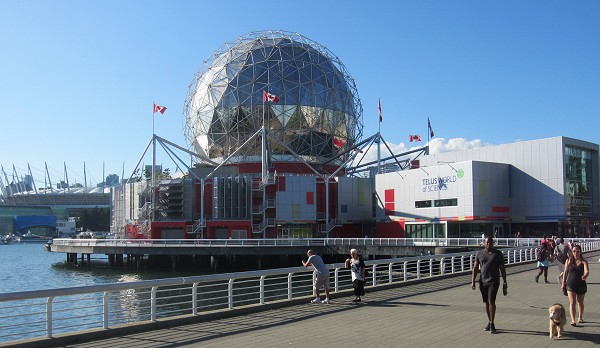 Science World
Follow thee two signs and lock your bike to the rack beside the False Creek Community Centre. Head further in and beside the mini water park there are public bathrooms. Assuming your are there before 6 PM, your relief will be had. In my case, I made it just in time!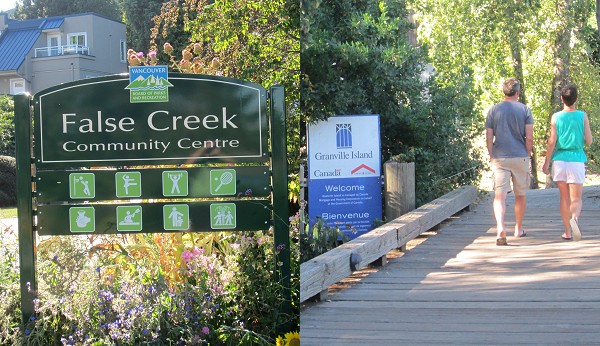 Note on Bike Locks: Granville Island has a high frequency of thefts. If you are using a cable lock, it is considered useless. On Granville Island there is a bike concierge which I encourage you to use if you spend time on Granville Island.
Once you cross the big street leading into Granville Island (under Granville Bridge) you follow the path onto a street for a short time and then once again head under the Burrard Bridge. You will pass a parking area and then turn right and face the Coast Guard Station.

Kitsilano Coast Guard Station
You are now at Vanier Park. Follow the gravel path to the Maritime Museum. Once past it make sure to look back at the view of downtown.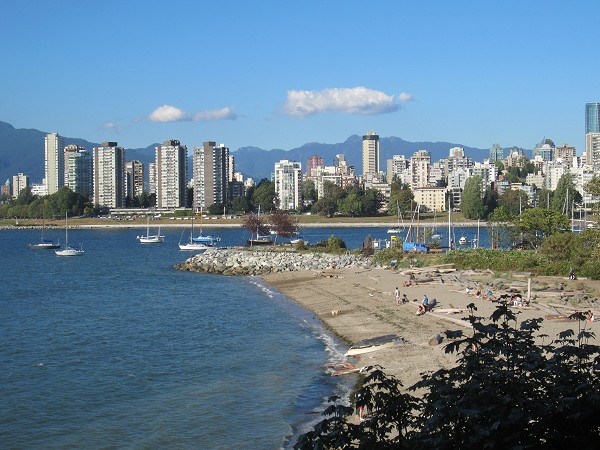 Follow the water on the right until you hit Kits Beach. Find a log. Sit on the log. And relax.