Vancouver Pools For The Summer!
It's summer in Vancouver, and as the temperature rises, so does the desire to be outside, soaking up some rays by the water. Here's some information so you're ready to go!
There are many good beaches around Vancouver, but what about outdoor pools? Yes, the beach is free and just as great, but sometimes, a pool is just what one needs. And there are many fantastic pools to be found!
My personal favourite is the Kitsilano Pool. It's an outdoor pool near Kits Beach, on Cornwall at Vine street, so the the views are amazing.
The pool itself is very big and equipped with multiple slides, so there's always something to do. It's also in my neighbourhood so that's an added bonus.
I find spending the day or afternoon at the Kits pool is very relaxing, the pool's a good temperature, so after sitting and chatting with a couple friends in the sun, it's very refreshing to go and splash around in the water. It had both sunny and shaded areas, but it can get fairly busy, pretty fast, so don't wait around to claim a spot!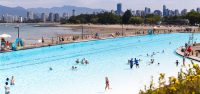 Another good one, is the Second Beach Pool. This outdoor pool is closer to the West End. It's big, but not a big as Kits. It has lap lanes and three slides, one is really only for the smaller pool go-ers, but if there's no line up, you'll probably see a few teens trying it out for fun, in search of good Instagram pictures. The pool is in Stanley Park at Second Beach and offers an amazing view of English Bay.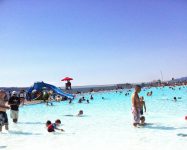 If you're looking for an indoor/outdoor pool, I recommend the Hillcrest Aquatic Centre. I've been many times, and have always been impressed by the cleanliness of the women's change room. I've never been in the family or men's change rooms (for obvious reasons), but I'd expect same.
The indoor pool is pretty big, with a wading area, good swimming lanes for those who want a work out, a deep-end with driving boards, a spacious hot tub and sauna as well as my favourite, the "play area". This section isn't too deep, but it isn't a wading pool either. It has open space to leisurely swim about and a cool whirlpool feature, great for hide and seek.
The outdoor part of Hillcrest is fairly small. It's deep, but with a good shallow section for smaller kids. It also has fun water-gun machines, so you can spray your unsuspecting friends.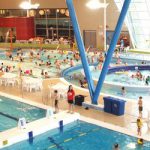 If you're looking for something brand new, the UBC Aquatic Centre is expected to open in late 2016. It will feature a 10-lane, 50meter competition pool, an 8-lane, 25meter pool with accessible ramp and diving boards, a leisure pool including an accessible ramp and lazy river. A 30-person hot tub, concession and lots of viewing areas are also planed. A sauna and steam room will be added later.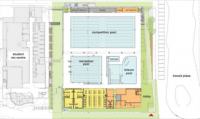 All the pools, with the exception of the UBC Aquatic Centre are owned by the City of Vancouver, so their entrance fees are the same, visit: vancouver.ca/parks-recreation-culture/fees-charges.aspx
For more information about the Kitsilano Pool, visit: vancouver.ca/parks-recreation-culture/kitsilano-pool.aspx
For more information about the Second Beach Pool, visit: vancouver.ca/parks-recreation-culture/second-beach-pool.aspx
And for more information about the Hillcrest Aquatic Centre, visit: vancouver.ca/parks-recreation-culture/hillcrest-aquatic-centre.aspx
Each pool has great ways to spend the day, but if you follow my advice, and want solely an outdoor pool, head on over to Kitsilano. If a mixture of indoor and outdoor is what you need, look no further than Hillcrest. Enjoy your summer!