Your Local Vancouver Farmers Markets
Everybody loves a good farmers market, especially when they're close to home. For those living in Vancouver, I strongly suggest that making a trip to the closest market be a top priority when it comes to your food shopping.
Founded in 1995, Your Local Farmers Market (The Vancouver Farmers Market) is a registered BC non-profit society. They also offer access to fresh, healthy food for low-income families through the Farmers Market Nutrition Coupon Program.
The farmers and food producers offer fresh fruits and vegetables, meat and poultry, baked goods, artisan food products and fresh fish, local craft beer, wine and spirits.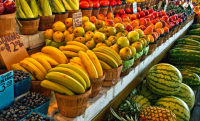 I've been going to these markets with my family for a long time and we are constantly impressed with the quality of the products. The vendors are extremely pleasant and will often suggest new and interesting ways to use their produce.
Food trucks are also available on site, and an all-time favourite of mine are the amazing crêperies.
There are six Vancouver Farmers Markets, one in Downtown Vancouver in the plaza of the Queen Elizabeth Theatre, which runs every Thursday, 2pm to 6pm from June 2 to October 27 2016.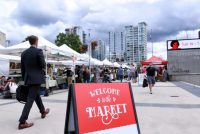 If you live in Kitsilano, there's a farmers markets every Sunday, 10am to 2pm from May 8 to October 2016 by the Kitsilano Community Centre.
There's the West End farmers market on Comox Street that runs every Saturday, 9am to 2pm, from May 28 to October 22, 2016.
The Mount Pleasant farmers market on 2300 Guelph Street runs every Sunday, 10am to 2pm from June 12 to October 9, 2016.
The Main Street Station farmers market (directly in front of the Pacific Central Station) runs every Wednesday, 2pm to 6pm, from June 1 to October 5, 2016.
And finally there's the Trout Lake farmers market (my personal favourite) which runs every Sunday, 9am to 2pm from May 7 to October 22, 2016.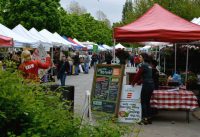 When you shop at a Vancouver Farmers Market, you're not only buying fresh, delicious food directly from local producers but also contributing more than $15 million in direct and indirect benefits to the local and regional economy. These markets support 250 small BC farmer and artisan food makers and help keep 6,000 acres of local farmland in sustainable food production.
These markets spread around Vancouver, are one of the best ways to enjoy an afternoon in the sun, stocking up on some fabulous local produce and sipping on one of the many refreshing drinks on offer all the while heading to your favourite bakery stand or food truck for an outstanding lunch, what could possibly be better?
For more information visit eatlocal.org