Related Travel Information
Notch Hill Trails in Nanoose Bay
In the Parksville–Qualicum Beach Discovery Guide that you can pick up around the area – but definitely at the tourist info office on Highway 19A on the way into Parksville — there's a mention of Notch Hill. It is short and reads, "A short hike to the top of the Notch Hill will reward you with view of Mount Arrowsmith, Nanoose Harbour and south to Nanaimo. This area contains a rare Garry Oak meadow and Arbutus forest ecosystem. The lookout is a great spot for a picnic lunch in nature."
This appealed to use because, with the pandemic, many places (e.g. Milner Gardens were closed. Plus, we wanted to take on a walk that wasn't going to be one of these insane BC walks-turned-into-mild-mountaineering-hikes. Apart from what I've quoted above, there was no information about where this was. We looked up Notch Hill online and there were varying descriptions of difficulties including a loop that sounded like it would work for us.
However, this park is on the Fairwinds Community land, which is private property in Nanoose Bay, and has far more land than I thought. (Do an Internet search for Fairwinds Community Association for more information.) As a result, as we drove, we were very reliant on GPS directions as the signage was, well, subtle.
Our first stop was a parking lot with a sign that showed a trail but no loop. It did look like it would take us to the top of the hill they were talking about, but we were sure a loop was what we wanted. So, we drove to a different understated pull out from Powder Point Road. From there we started the loop. However, as you will see in the photos, the trail was not well marked either. We passed by a swampy tiny lake and then managed to have a wonderful view on Eno's Lake.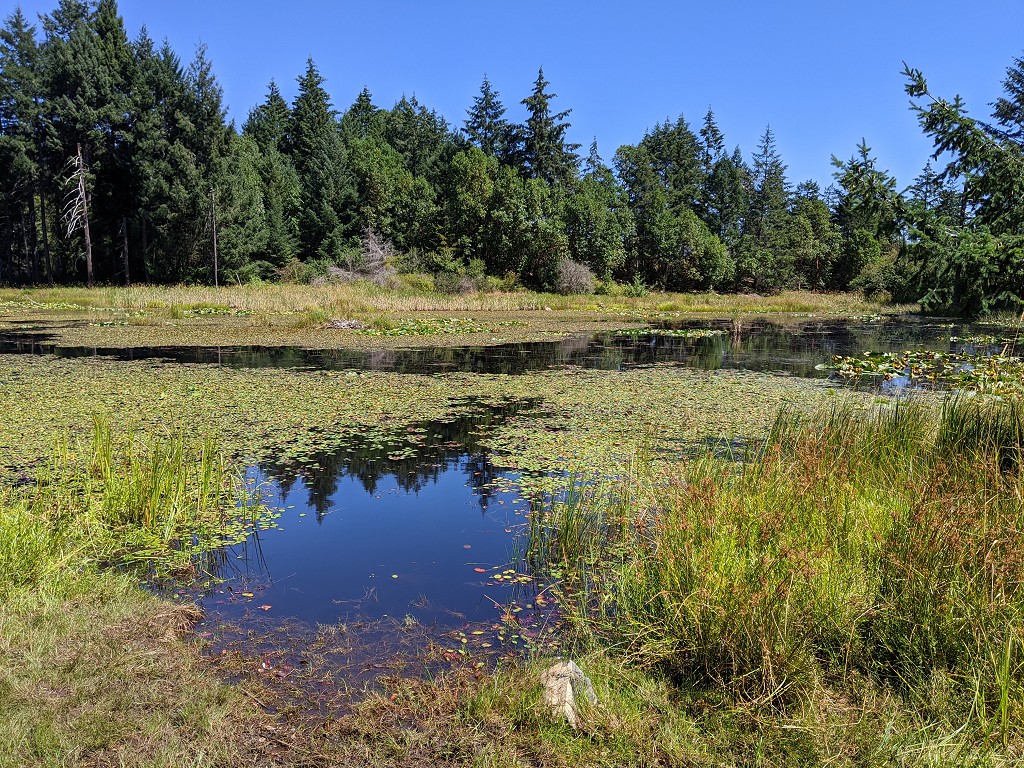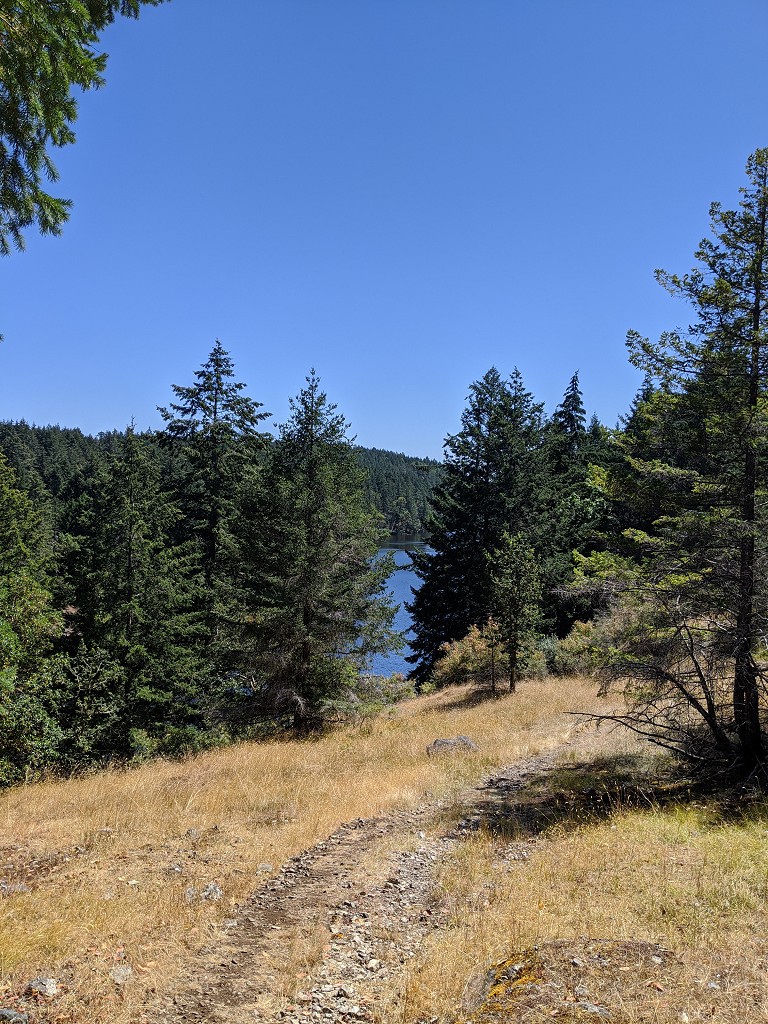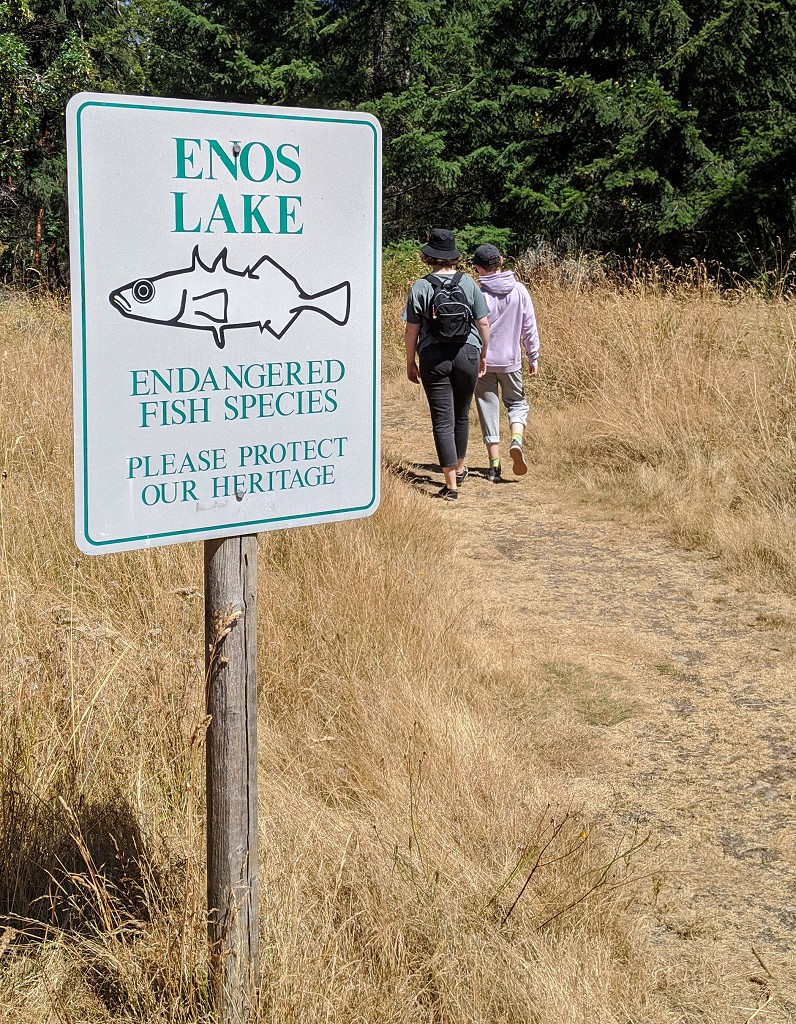 It was hot in the sun so we were glad for the trees that often sheltered us. It didn't take long for us to realize that we were going to have a high view point because, duh, the loop and Notch Hill itself were distinct things accessed at different points.
However, the rocky terrain on the loop was populated with Arbutus and Garry Oak trees. It was worth the trek regardless.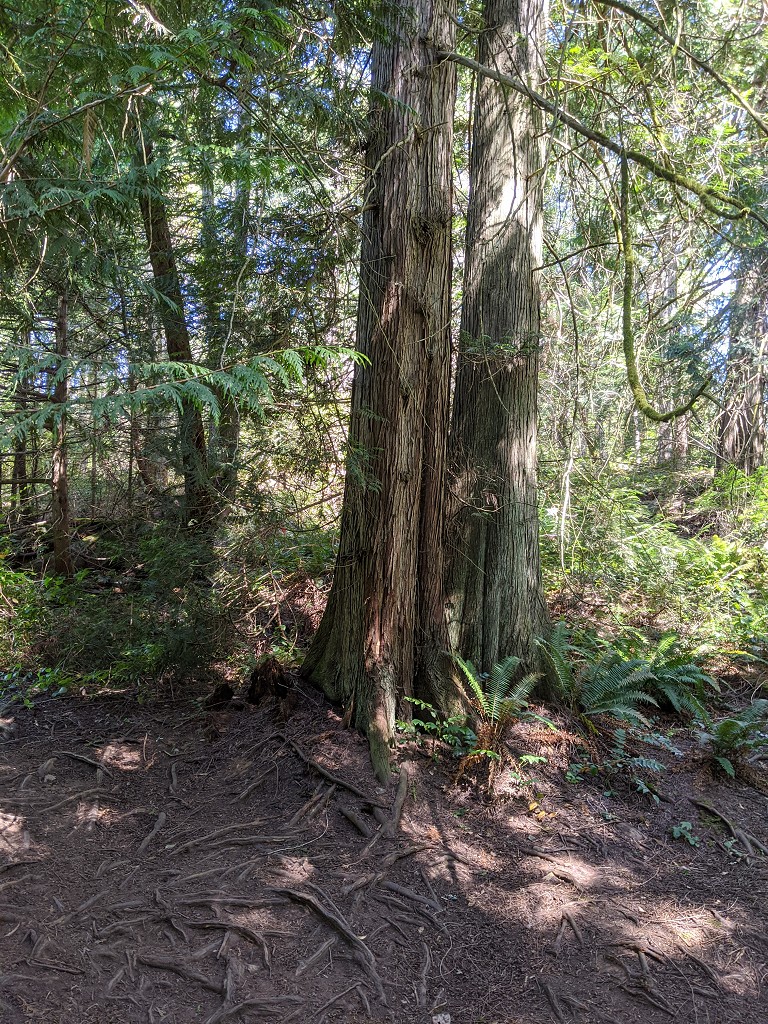 Therefore, I suggest trying both walks – we ran out of time – but I suspect the trek to Notch Hill itself would be considered moderate.
For reference … our signage options.