Related Travel Information
Gun Lake
Gun Lake is a deep and gorgeous, mountain-ringed, water-filled former volcano, nestled between the sharp peaks of BC's coastal mountains and the rolling hills of the South Chilcotin.

View of Gun Lake from Sugar Loaf Mountain
The 10 km long lake is roughly 240 km north of Vancouver via the steep and winding Hurley River Forest Service Road. It can also be accessed by Highway 99 (the Duffey Lake Road) to Lillooet and Road 40 to Gold Bridge. This way is longer, adding about two hours to your journey, but is much gentler to your vehicle.
Because it's barely four hours outside of Vancouver via the forest service road, it offers one of the few remaining chances to get into BC's back country without a lengthy drive.
Gun Lake residents are very protective of their water quality. They conduct regular tests that prove Gun Lake is the clearest in North America.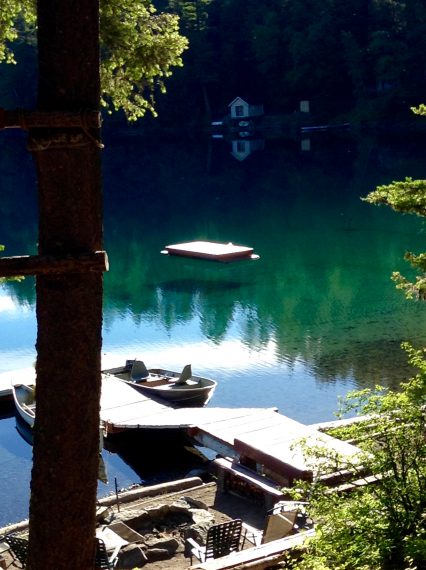 Rose Bay, Gun Lake
The raft in the centre of the photo is not floating on air. It's floating in about six meters of water.
Gun Lake is known for its afternoon winds, making it challenging and exciting for sailors and windsurfers. It's also fabulous for swimming (although some beaches can be fairly rocky), water skiing and fishing. The rainbow trout, are spectacular! Because they dine on tiny lake shrimp, they have an amazing pink flesh, made firmer by the chilly water. Eat one of these and you'll never eat another store-bought rainbow trout again!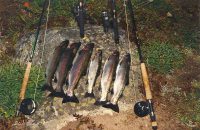 Rainbow trout fresh from the lake
Gun Lake is a great place for hiking, biking, horse back riding and ATVing. Two businesses in the valley (Tyax Adventures and Chilcotin Holidays) can arrange overnight pack trips, biking and hiking trips into the South Chilcotin Provincial Park.
Or explore BC's Gold Rush past by visiting the ghost towns of Pioneer, Brexton and Minto, or pan for gold at the Haylmore Heritage site in Gold Bridge, only five kilometres from the lake.

Haylmore Heritage site, Gold Bridge